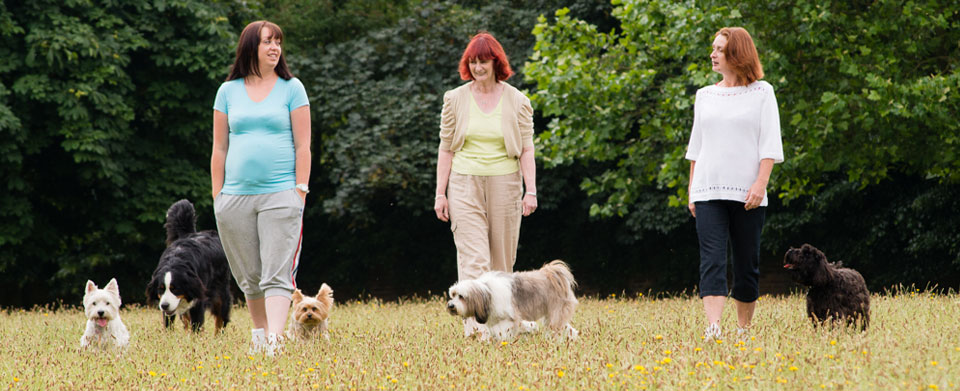 Nanny McWalkies is a family run business, providing a dependable and caring service for dog owners to specific areas of West London.
One of the most important decisions dog owners make is what to do with their dog while they're at work.
Our services are designed to suit every pet's requirements. Whether it's dog daycare, dog walking, basic training, dog behaviorist or cat sitting. We also offer puppy daycare, which incorporates some dog-training elements into their daily life.
Daycare provides an exciting social environment for your dog to play and learn. More than anything though, coming to daycare eliminates the boredom and anxiety that could inevitably results from being left at home alone all day. Just like school for kids daycare provides a social life for your dog while you're at work.
Nanny McWalkies is devoted to keeping dogs and cats healthy, safe and happy. We are committed to developing a personal and long-term relationship with your pets. Dogs see the same team each and every day, and cats are pampered on visits. Before services begin we will set up an appointment for a private meet and greet in your home to discuss your pet's individual needs.
Some of the things that make us different.
Professional team who employ a combination of training and structured play to make sure all dogs are both mentally and physically stimulated.
Constant access to outdoor and indoor rest areas.
Puppies and seniors are given extra naptime and full supervision.
We are fully insured including: Public Liability, Loss of Keys, Care, Custody and Control and Pet Transport. All keys are held in a locked cabinet over night.
We introduce basic training and pack walks to ensure your pet's behavior develops. Allowing them to enjoy their walks.
We try to be as flexible as we can, understanding how busy life can be.
A team dedicated to the wellbeing of your dog.
Our team constantly supervise your dog watching body language when your dogs are playing and applying training techniques to promote good habits.
We are fully recommended by vets and groomers.
We have a vast experience of caring for animals of all kinds. 
We operate in the following areas:
Brentford, Isleworth, Osterley, West Ealing, Northfields, Hanwell, Perivale, Ealing, South Ealing,
Thank you for the months of assistance and care to-date whilst Ania and I look forward to leaving Coco with you in the knowledge that she is always in safe hands.
Alfie has been walking with Nanny McWalkies for over a year now and its clear he (Alfie our dog) loves the walks, the care, the friendship and the fun that he gets with Sheila and Diane. They are great time keepers I never have to worry if Alfie is going to be walked and they really do care about the dogs. I would recommend to anyone. Thank you.